Posted by thinkphd in : Dissertation , 3 comments
Yep – PHinisheD! I defended my research today and am happy to say that I survived and live to tell the story!
Thanks to everyone who listened in, sent notes of encouragement, or called to wish me well. A special thanks goes to my proctor GB, who also happens to be my boss. This journey has been long and hard, and it is good to know that the light at the end of the tunnel really does exist.
You know, it is ironic that I started on this journey on my birthday in 2006, and I PHinishedD on my husband's birthday (today) in 2012!
Quite a coincidence, don't you think?
Posted by thinkphd in : Education , add a comment
Happy New Year to all my readers and friends! As you make your new year's resolutions, don't forget to add scholarship and learning to your list.
You might be thinking about returning to school, or taking some extension classes. Maybe you are wavering on deciding to step into Masters' or PhD waters. You might be discouraged about your PhD or DBA path, after getting back some disappointing red-lined RSH or DIS assignments. Maybe that degree you are working on seems so far away, you cannot even see the light at the end of the tunnel right now.
I understand; been there, done that.
Take it from a battle-worn veteran; YOU CAN DO THIS. Step back and prepare a plan of action. Collect supportive folks to encourage you in your journey. Shake off the disapointments you have drug along with you; they are too heavy to bring into 2012. Find that inner strength that no one believes is within you, but I know is there.
Regardless of your circumstances, your personal self-investment in learning and education is yours forever. It cannot be taken away, stolen, forgotten, or lost. It becomes an eternal part of you. It makes a better "you" and as a result, it makes a better "us."
So, add learning and scholarship to your 2012 resolutions and your "to do" lists.
Think living, think learning, thinkPhD.
"Education, therefore, is a process of living and not a preparation for future living." – John Dewey
Posted by thinkphd in : Dissertation , 3 comments
Wednesday, January 4 is "OD-day" (Oral Defense Day)!! I am all set – my presentation had been sent to the research professor who will moderate the call, my chair Dr. M., and my two committee members, Dr. W and Dr. B.
The OD is handled via conference call, and a proctor must be present to verify that I am who I say I am. After the OD is opened by the moderator, I will provide a 30 minute presentation (PowerPoint slides) outlining my research and the results. Then, the floor will open for questions from the committee and professors in attendance. According to the Dissertation Handbook, I must "speak clearly and knowledgeably about their [my] research, justify their [my] work, and be able to articulate the significance of their [my] work for the field of specialization." I hope I can do that!!!
Following this grilling session, I will sign off the call while the professors deliberate. Then, I call back and they will tell me their opinions. Thumbs up or thumbs down on the "PhD" thing!
After this, I will fill out the Graduation Request Form and send a clean copy of my Dissertation to the Registrar. Later, I will get my diploma in the mail! Yahoo! I plan to attend graduation in June and be hooded. Husband and I will probably visit the Grand Canyon and the Hoover Dam at the same time.
I have given many presentations in my career, so I am not nervous about the presenting, but I am a little nervous about what kinds of questions the professors may ask me after the presentation. Wish me luck!
Posted by thinkphd in : Dissertation , add a comment
I am often asked about "how fast" one can go through the RSH and DIS classes or if they can be doubled-up. These courses cannot be doubled-up…you must pass through each one in succession. You can take more than one course while working in your core classes, but you cannot do that with these.
Each of the four RSH classes builds one on the other with the finished CP resulting in RSH-9104. After comps, you begin the DIS classes. Each of these moves you along the dissertation process. NCU requires three DIS classes, worth three credits, and cost at full price. Then, you work through DIS 4, DIS 5, DIS 6, etc., until you finish. These courses are one credit hour each and are billed at the one credit hour price. I ended up taking five DIS courses.
I found that the major issue in the RSH and DIS classes were the waits between reviews/returning assignments by the mentors and chair, the dissertation committee, the OAR, and the IRB. Also, I had to extend data collection because of poor response. My advice to those entering RSH and DIS courses is to always be one step ahead; always be ready with the next assignment if possible. Of course, if you do not received approved documents from the OAR those will need to pass back through your chair and committee for review.
Keep in mind, it is very common for the CP, DP, and DM to be rejected on the first submittal. I was told that only 10% of all DMs are accepted the first time through with no changes required.
For example, if your DP is a resubmit, and the OAR kept it for 14 days (instead of the 7 in the document turnaround guidelines), it may take you several days (let's say 3 days) to fix the problems, then your chair and committee reviews it for 8 days (7 days in the guideline). Now you are ready to resubmit to the OAR, and they keep it 12 days. You now have approval, but all this cost you 37 days. So you can see how quicky a resubmit DP can drag out to 30+ days! You are now over 5 weeks "behind" in your timeline which has eaten up a third of a DIS course.
You must remember that most of your professors are multi-employed and by nature, very busy people. Personally, I would rather have an in-depth critique of my work rather than a quick run-through.
Be patient. Be courteous. Remember – delays outside your control will happen. Be complete when addressing issues and making recommended changes with your work.
In all, my advice is to focus on moving forward on the journey.
Don't worry about the TIME it takes to reach a PhD.
Just reach it.
Just thinkPhD.
Posted by thinkphd in : Miscellaneous , add a comment
To my readers, colleagues, family, and friends:
May have you a blessed Christmas day full of love and laughter! Today is a day to reflect on blessing received this year. May happiness and peace be yours today, tomorrow, and forever!
Happy Holidays,
Cindy
Posted by thinkphd in : DIS+ , 4 comments
I received the best Christmas present EVER this weekend….my DM was approved! I am so very happy today! I already have plans to read the stack of NOVELS that have been accumlating on my bookshelf because I haven't had time nor the mindset to do anything but get this DM finished. I am also planning to pick back up on my violin lessons and all the other things that had to be put aside over the past 5 years, 6 months, and 24 days (or 48,816 hours, but who's counting?). Today, I am starting a crochet project 🙂
I want send a special "thank you" to everyone who has encouraged and supported me in my thinkPhD journey. Thank you to my readers who have kept me writing and sharing. Rest assured, I will continue to write as the process is far from over. I still must defend and graduate and you will see what it takes to get those done.
Oh, the title of my quantitative dissertation is "Dimensions of Purchasing Social Responsibility in Sustainable Supply Chain Organizations."
See you at graduation!
Posted by thinkphd in : Miscellaneous , add a comment
Today, I passed the APICS Certified Supply Chain Professional (CSCP) exam today! I now have four letters to add after my name.
Of course, I am still waiting for those other elusive three letters (PhD)…. 🙂
I work in my company's supply chain department and the CSCP certification is part of our recommended education and training. The Association for Operations Management (APICS) has several certification programs, including the Certified in Production and Inventory Management (CPIM) program. The CSCP certification is relevant to supply chain operations and decision-making. The test has four content sections: "Supply Chain Management Fundamentals," "Building a Competitive Infrastructure," "Managing Customer and Supplier Relationships," and "Using Information Technology to Enable Supply Chain Management."
My company paid for a course offered by the local APICS chapter as well as the online APICS CSCP Learning System. Between the classes and studying on my own, I estimate that I spent at least 100 hours preparing for the exam. I took a vacation day from work yesterday and studied most of the day (but I graded some papers, too). I also printed out the CSCP flash cards and studied with co-workers over our lunch breaks.
The test was difficult because it required a conceptual knowledge of the topics, rather than simply memorizing definitions. There were a few questions on the test that about subjects that I do not think were in the textbooks. Overall, I feel like I learned quite a bit about supply chain processes and strategies studying for the exam.
I think those four letters after my name look pretty good…what do you think?
Cynthia J. Wolfe, CSCP
Posted by thinkphd in : Miscellaneous , add a comment
Looking for a holiday gift for you or your favorite PhD-to-be? Look no further! My thinkPhD double-sided mug will motivate and inspire! Click the link and step into my Zazzle store…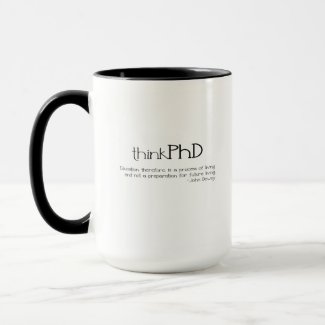 thinkPhD Double-sided Mug
by
thinkPhD
Browse other
Thinkphd Mugs
Posted by thinkphd in : Delta Mu Delta , add a comment
Bob Uda, President of Lambda Eta Chapter of Delta Mu Delta at Northcentral University, has announced the schedule for Chapter Officers Elections and encourages all members to consider running for office. Officers' terms will be from January 1 to December 31, 2012. To qualify for nomination and election, you must be a member of Lambda Eta Chapter, be prepared to perform all the duties of the office, and agree to uphold the chapter bylaws.
The duties of each office are:
President – assists with keeping the officers motivated; leads with whatever schedule is appropriate for chapter operation, including regular business meetings held at minimum the first week in June and December annually as per the bylaws; leads Officers' meetings; ensures bylaws are understood by Chapter Officers; uses Robert's Rules of Order, Newly Revised, as the parliamentary authority for meetings; moderates the Officer's Installation Ritual for new officers following the Election of Officers
Vice President – functions as the chair of chapter activities, including but not limited to, moderating the New Member Induction Ceremony and leading local scholarship activities
Treasurer – keeps track of incoming memberships; retains copies of new member payments; assures prompt payment to Central Office for all items ordered; completes the chapter's Financial Statement; ensures payments for products and scholarship monies are disbursed in a timely manner
Secretary – keeps track of the chapter's records including, but not limited to, creating and retaining minutes of meetings; retains copies of membership data profile (MDP) forms; handles chapter correspondence; completes the Annual Report for the chapter with assistance from other officers and administrative assistant; conducts Officer elections; monitors NCU Honor Society Discussion Board and answers questions
Faculty Advisor – enforces compliance with the Chapter's bylaws and conformance with National Chapter standards and regulations; assists the National Chapter; represents the Chapter at meetings and conventions of the National Chapter; serves as liaison between the National and local Chapter; works with the school's administration; attests to the eligibility of memberships; monitors the chapter for compliance to bylaws; is the conduit of communications with Central Office
The schedule for Elections is:
Wednesday, November 2: self-nomination for Chapter Officers opens
Monday, November 28: self-nominations close
Wednesday, November 30: election opens for all Chapter Officers and Faculty Adviser via online ballot
Wednesday, December 7: election closes
Thursday, December 8: New Chapter Officers notified
Saturday, December 10: Chapter Officers Induction Ceremony
****Are you a member of Lamba Eta Chapter? Download the Delta Mu Delta Lambda Eta Officers Self-Nomination Form here:
https://sites.google.com/site/ncudeltamudelta/elections
Posted by thinkphd in : DIS9324B , add a comment
I am still waiting for Office of Academic Research (OAR) response in regard to my Dissertation Manuscript (DM) submission over a week ago. Technically, they are supposed to respond within a week. I have been on pins and needles all week, and the stress is showing in the bags under my eyes. Sometimes I feel ambivilent and tell myself it will be what it will be. Other times, I think about things I might have added or enhanced or were missing. I listened to four DM presentations this week trying to get a feel for how they run so that I will be prepared. Then I think – whoa – you are getting the cart before the horse – you are not even approved yet!
Today, I am very nervous and wondering if I will have major re-writes or nothing to do this weekend. Does a delay mean they LOVE my DM and are reading it over and over just for fun (!!), or does it mean they are nitpicking it and are writing extensive correction notes, or does the delay simply mean they are busy this week? AAARRRGGGHHH!!!!
Posted by thinkphd in : Delta Mu Delta , add a comment
Our Delta Mu Delta Chapter website is up and running – here is the link: https://sites.google.com/site/ncudeltamudelta/
We set it up as a (free) Google site. Qualifications for membership are listed on the main page. If you are member, consider self-nominating to become an officer. Elections are coming up very soon! I was the Secretary this year and truly enjoyed working with the Officers and members. We have some great new local scholarship news coming up soon!
The schedule for Elections is:
Wednesday, November 2: self-nomination for Chapter Officers opens
Monday, November 28: self-nominations close
Wednesday, November 30: election opens for all Chapter Officers and Faculty Adviser via online ballot
Wednesday, December 7: election closes
Thursday, December 8: New Chapter Officers notified
Saturday, December 10: Chapter Officers Induction Ceremony
Posted by thinkphd in : DIS9324B , add a comment
I am holding my breath.
My dissertation manuscript went to the OAR yesterday.
So I am….
waiting for the other shoe to drop
waiting for the next aftershock
watching the sky for rain
walking on eggshells
watching paint dry
waiting for the dust to settle
waiting for my ship to come in
waiting for the pot to boil
…clichés or not…it's pretty nerve wracking. The OAR has 7 days to review my work and either thumbs-up it or thumbs-down it. I am holding my breath…and trying to think positive thoughts! Perhaps if we all hold hands and wish really, really hard…..!
Posted by thinkphd in : DIS9324B , 1 comment so far
I continue to wait on Dissertation Committee member Dr. W's return of my DM. Technically Committee members have 7 days to review my paper but today is Day 9. So I have done these things yesterday and today:
– placed the change matrix in front of the DM – I had it as a separate document but Dr. M says to put it at the front
– updated the change matrix to show accurate page numbers where the changes were made
– addressed Dr. B's recommendations to the DM
– augmented the Chapter 5's Conclusion to help "tie" it together with some points made earlier
– since I never received permission to use a specific figure from its author, I deleted the figure and updated the table of contents (TOC) and wording that referred to it as a figure
– I responded to thinkPhD reader emails
– I corrected all my et al. errors. I have a tendency to write (Author, et al, 20xx). There should be no comma after the author's name, and a period after the "al" – thanks Word for the find and replace function!
– I wasted time on the NCU Discussion Board and made a few comments
– I looked online at the photo of Mariah Carey's cute new twins (certainly not a time waster – they are so CUTE)
– I turned in my "Weekly Dissertation Update" as required by the school
– I read the entire 217 page DM one more time…it's a real sleeper!
So waiting and fixing is what I will be doing today. I hope to receive my DM back from Dr. W, make the corrections, and send it back asap to Dr. M so that he can submit it to the OAR before the end of my class on Oct 30!
Posted by thinkphd in : DIS9324B , add a comment
Well, one of the Committee members speaks…so far….
Dr. M sent my Dissertation Manuscript (DM) to my Dissertation Committee last Friday. Dr. B returned it yesterday and I am making his recommended changes today. He was complimentary and suggested adding to a few paragraphs in certain places. I have not heard from Dr. W, yet. Technically, the Committee gets one week to review and comment. I hope to see something from Dr. W tonight, so that I can make her changes and turn it back into Dr. M no later than tomorrow. This would mean that my DM could possibly be sent to the Office of Academic Research (OAR) in a few days!!!
I am pretty nervous at this point and not trying to focus on horror stories of DMs being rejected by the OAR. I am trying to stay confident that my work is good enough to move forward. But we will see very soon….
Posted by thinkphd in : DIS9324B , add a comment
My DM will go to my Committee for the first time today. I am pretty nervous about this next big step! The Committee has not seen my work since reviewing the DP ages ago. I hope that my Committee will review it and turn it back into me quick. This class ends on Oct 31 and it would be FANTASTIC if I did not have to take another DIS course to complete my coursework. Keep your fingers crossed for me!